Church Information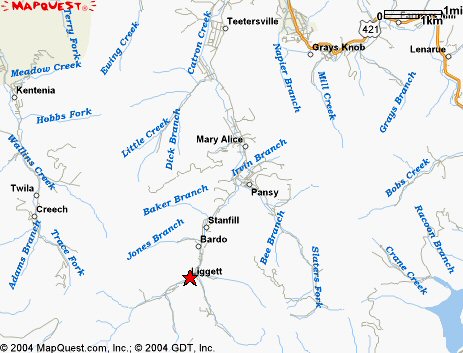 The Liggett Baptist Church is located at Liggett, Kentucky. From the 421 Bypass in Harlan, at traffic light No. 8 turn onto Ky 72 ( Catrons Creek Road), and travel for a distance of approximately 7 miles, The Church is on the left as the highway ends.
The Liggett Baptist Church welcomes you to come and attend our Church and be a part of our worship services as often as you can. We believe that the Bible Is God's Holy word. We also uphold the Baptist faith and doctrine. We observe two ordinances, that is the Partaking of the Lord's Supper and Baptism.
….Most of all there is freedom of worship at our church. The love that's bestowed on all who come through our doors is shown by a welcome, handshake, and a smile. Our favorite saying is " A CHURCH THAT'S ALIVE IS WORTH THE DRIVE".
Our church also has extra curricular groups for every age that walks through our doors from the nursery to our senior adults. (click on the groups for more information)
OUR MISSION STATEMENT IS THIS:
We believe in God as eternal Father, Son, and Holy Spirit.
We believe that God created and sustains the universe.
We believe that The eternal purpose of God the Father is to create a people who will bring glory to himself forever. God alone is worthy of worship.
We believe that God became human in Jesus Christ. Jesus came to restore the world because humans have rejected God in disobedience.
WE BELIEVE Jesus taught and modeled the way of God's kingdom. He died on the cross, making it possible for us to accept a renewed relationship with God. He rose from the dead, broke the power of sin and death, and frees us to live in obedience to God's will.
We believe that God's Holy Spirit invites all people to be reconciled with God and to join the global family of faith.
WE BELIEVE THAT WHEN ANYONE THAT WILL confess their faith, are baptized, join in and partake of the celebration of the Lord's Supper, THEY BECOME A PART OF GOD'S FAMILY.
WE BELIEVE THAT Through the power of the Holy Spirit and guided by god's holy word, the Bible, members of the church seek to live as followers of Christ and invite others to experience this new life.
WE BELIEVE THAT As Christians we are called to turn:
from ignorance of God to a personal relationship with God.
from bondage of sin and past mistakes to freedom, forgiveness, and healing.
from individualism to interdependence with others in the local church.
from lifestyle choices that harm us, others, and the earth to choices that nurture wholeness, healing, joy and peace.
from hating enemies and ignoring neighbors to showing love and justice to all.
from loving possessions to sharing with all in need.
from aimless existence to a mission of representing and proclaiming God's kingdom on earth.
WE BELIEVE THAT As Christians we look forward to the day when God will once again send Jesus to bring all things under God's eternal rule.
IF WE MEET AND YOU FORGET ME, YOU HAVE LOST NOTHING - BUT IF YOU MEET JESUS, AND FORGET HIM, YOU HAVE LOST EVERYTHING. . . .
Therefore let us offer the sacrifice of praise to God continually, that is the fruit of our lips, giving thanks to his name. Hebrews 13:15
. . . THERE'S NO PLACE LIKE THIS PLACE ANYWHERE NEAR THIS PLACE. . . SO THIS MUST BE THE PLACE. . . . TO COME AND WORSHIP THE LORD, IN SONG, SPIRIT, AND FELLOWSHIP !
Home | Church Information | Schedule of Services | Year's Review | Activities | Pastor's Pen | Plan of Salvation/Church Covenant | Devotions | Groups | Officers/Committees | Church History | Missions/Missionaries | News/Events | Contact